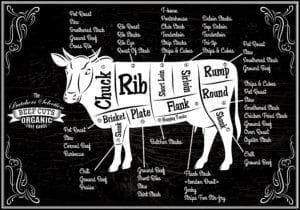 Confused by all the different cuts of beef? Growing up, we had no idea what the difference between a Rump Roast and a Chuck Roast was (turns out there's a big difference!). Our parents didn't know the difference between a Skirt steak and a Round steak, or how to cook them. That's why we created our Beef Guide.
We asked our friendly butcher to put together this simple Grass fed Beef Guide, with photos and descriptions, to help folks understand the different cuts of beef.  Our beef guide has over 20 cuts of grass-fed beef, including: steaks, roasts and other assorted cuts. If you have additional questions, please reach out to our butcher.
You may have heard of 'primal beef cuts' on a food show or read about them online. There are 8 primal cuts of beef: Chuck, Brisket, Shank, Rib, Loin, Short Plate, Round and Flank. Out of these primal cuts come the individual cuts you see at the grocery store.
Some of the most popular cuts of steak come the the Loin area of the animal. These cuts include the Porterhouse/T-Bone, Filet Mignon, Strip Steak and Tenderloin.
Each cut has its own unique characteristics and flavor profile. You can also check out the official USDA beef cut sheet here.
Our Mission
Deliver premium, responsibly-raised grass-fed beef direct to your door.
What Our Customers Are Telling Us
I really love the idea of getting aged, grass-fed beef directly from the producer. River Watch Beef is leaner than store-bought beef and much more flavorful. Buying directly from River Watch means I know where my beef is coming from. That makes me more confident that I'm getting exactly what I want.
To be able to buy grass-fed beef from a qualified supplier, who offers some of the best beef my wife and I have ever eaten -- without paying high-end restaurant prices -- is a foodie's dream come true. We've almost gone through our first order! Thank you, River Watch Beef. You had us at the first bite.
My grandfather was a drover on the Chisholm Trail; my great-grandfather was a co-founder of the Kansas City Livestock Exchange Company. I made the official film for the American Royal Livestock, Rodeo and Horse Show and consider myself a connoisseur of beef. River Watch Beef is, hands-down, the finest I have ever had the pleasure to enjoy.
I made a pot roast expecting it to taste like...well...pot roast. Nothing fancy, nothing amazing. I did what I always do for pot roast--set the temp for 250, let it braise for a good five hours with some potatoes, onion, rosemary, and carrots. But I got the sense it was not going to be just any pot roast. The kitchen started to fill up with this gorgeous scent--when I carved it up for dinner that night, suspicions were confirmed. The roast was the most complex, flavorful hunk of meat to come out of my oven. Thanks, River Watch Beef, for bringing meaty nirvana to my kitchen table!