Featured Recipe: Easy Slow Cooker Beef Chuck Roast
Super Easy Slow Cooker Chuck Roast Recipe
For a long time, cooking a pot roast seemed like an all day endeavor and a lot of work (and cleaning!). It was also intimidating, at least for me. We brought out Mom's hand-me-down Crock-Pot and decided to try cooking it as simple as possible. Now we're HUGE fans of the beef chuck roast, especially as the colder weather is here. Incredibly fork-tender meat, with a big beefy flavor.
I was talking with a customer who wasn't familiar with slow cooking chuck roasts in a crock-pot. She asked how to best prepare a simple pot roast, since her family was in town. This inspired our newest Grass Fed Beef Recipe: Super Easy Slow Cooker Beef Chuck Roast.
Grass-fed chuck roasts are easy to prepare and makes a delicious meal for the whole family (unless they are vegetarian). Slow and low is the key to a great pot roast!
Preparation Time: 5 minutes
Cooking Time: Approximately 8 hours
Method: Slow Cook (Crock-Pot)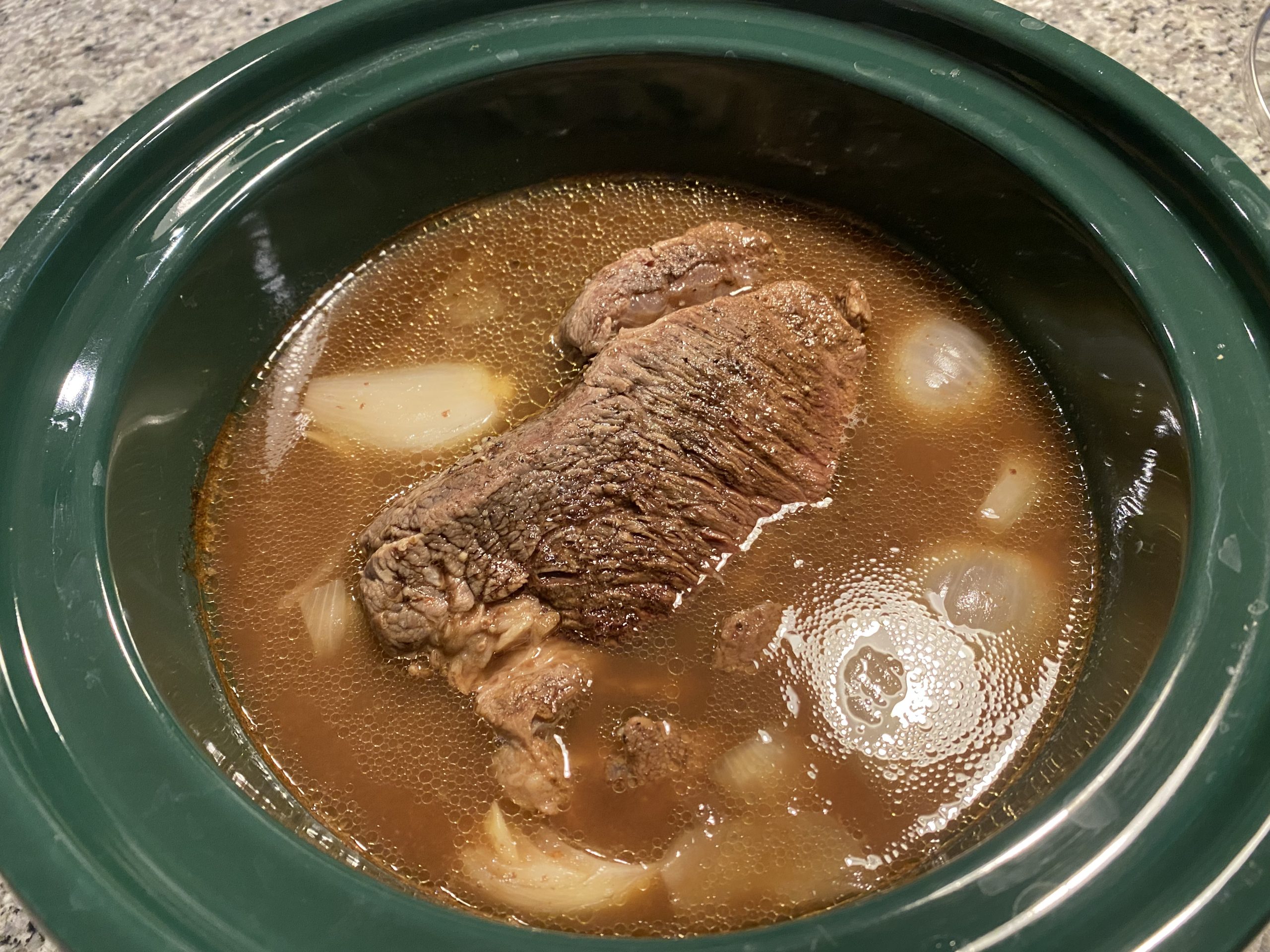 Super Easy Slow Cooker Pot Roast:
Ingredients:
Approx. 3 lb Beef Chuck Roast (Grass Fed Beef or Traditional)
Sea Salt (or Kosher Salt)
Black Pepper
1/2 or Full Onion (quartered)
Low Sodium Beef Broth (1 Quart)
Chuck Roast Preparation & Cooking Instructions
1) Place the Beef Chuck Roast on Cutting Board, remove any excess fat. With quality Grass Fed Beef Chuck Roasts, trimming should be little to none. *Grocery store beef may require significant trimming.
2) Season The Meat with Sea Salt (or Kosher Salt) and Pepper to your taste. Let the meat rest 1-4 hours (in the refrigerator), so the seasoning can penetrate the beef. If you are not sure, start with a moderate amount of seasoning (can always add more later). Quarter the onions to add to the crock-pot later.
You can also add other seasonings, like: garlic powder, onion powder, fresh garlic, thyme and more.
3) This is the Super Easy Recipe, so no searing needed. Traditionally, you sear the roast (on high heat) on all four sides to get good caramelization. This takes time and I don't think you get much more flavor for the effort.
4) Set Crock-Pot to High Setting
5) Place Chuck Roast in a Crock-Pot with sliced onions and low-sodium beef broth (approx. 4-5 cups), covering almost all the roast.
6) After 3 hours of cooking, turn the roast (about 90 degrees). This helps tenderize the meat all the way around.
If you are not able to turn during cooking, no need to worry.
7) After another 3 hours (or so), turn roast again. Beef should be starting to get more tender.
8) Continue cooking for another 2 hours (8 hours total). Then, remove roast with tongs. The meat should be fork tender and juicy.
9) Place roast on a cutting board. Let cool for 15-20 min and serve.
10) You can use the remaining liquids as a broth. Simply let the broth cool and and place it in the refrigerator overnight. Remove any fat (on top) and strain.