Grass Fed Beef: Flight of 10 Premium Steaks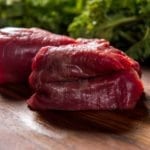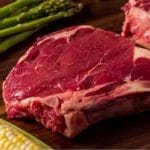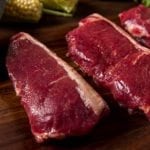 Gourmet Grass Fed Steak Flight
10 Premium Beef Steaks
A Steak Lover's Dream!

The Grass Fed Beef Steak Flight ($219+ value) is a Steak Lover's dream! Our steakhouse-inspired steaks are dry-aged 14-21 days to perfection, and then hand cut just for you. This package includes ten (10) mouth-watering Grass Fed Beef Steaks. Enjoy top quality gourmet steaks, without leaving the comfort and safety of your house.
Steaks Aged to Perfection
We dry-age our steaks 14-21 days, just like fine dining restaurants. The result is a tender texture, deep color and big 'beefy' flavor. Order superior grass-fed beef, delivered direct from a Kansas family beef producer. Approximately 7.50 lb. 100% Satisfaction Guarantee.
Grass Fed Steak Flight Includes:
Naturally Raised Grass Fed Beef
Our beef is raised free range & minimally processed: 100% natural and grass finished. No GMOs, additives, added hormones or antibiotics. Our family raises premium Angus and Hereford beef animals in central Kansas (Flint Hills region). Learn more about Our Story or you can check out our Blog. From our pasture to your dinner table.
Summer Delivery & Shipping Information
Free Kansas City Delivery. Includes most of Kansas City metro area (Kansas and Missouri).

$26.95 Flat Rate Shipping (up to 12 lb): Kansas, Missouri, Iowa, Nebraska (eastern), Oklahoma (Tulsa & OK City areas)
Grass Fed Beef Steak Flight Box
10 Gourmet Aged Steaks
Family Beef Producer – Order delicious Grass Fed Beef, delivered direct from a Kansas family producer.
Grass Finished Beef – Naturally-raised Free Range Beef; grass-fed and grass-finished.
Minimally Processed – Our beef is minimally processed with nothing artificial added (ever).
100% Natural Beef – No Added Hormones, Additives or Antibiotics. No GMOs. NO Bull.
Healthier Option – Less fat, more Omega-3s and more antioxidant vitamins (A, B, D and E) vs traditional store-bought beef. NPR Article.
Aged 14-21 Days – Dry-aged up to 21 days for a big 'beefy' flavor and tender texture.
USDA Certified – Each cut is individually labeled with the cut name, weight and USDA inspection approval.
Conveniently Delivered – Save time, gas and the avoid checkout lines at the store. Exceptional beef, conveniently delivered right to your door.
100% Satisfaction Guarantee – We strive to produce the best beef possible. If you are not happy, we'll make it right.
Join Our Grass Fed Beef Club (monthly subscription) – Subscribe to our Grass Fed Beef Club and receive gourmet grass fed beef every month.
Grass Fed Beef Preparation & Cooking Tips
Sear on High heat. Then, use lower heat (low-medium to medium) to finish cooking (450-500 degrees).
Use less cooking time when grilling or frying grass fed steaks and ground beef (20-30% less).
We recommend using a food thermometer to monitor temperature.
Keep temperature to medium-rare to medium – do not overcook! 
See our Recipes Page for more info on preparation and cooking techniques.
Visit our Beef Guide for photos and descriptions of specific grass-fed beef cuts (steaks, roasts, etc.).
Have a question about grass-fed beef? Check out our FAQ (frequently asked questions).
Summer Shipping Details
Once your order is received, we'll follow up via email to schedule your delivery date (weather can affect shipping).
Free Local Delivery in most of KC metro (Kansas/Missouri)
$26.95 Flat Rate Shipping (up to 12 lb): Kansas, Missouri, Iowa, Nebraska, Oklahoma
Local delivery available Thursday & Friday. National orders ship on Monday-Wednesday for Wednesday-Friday delivery.
Questions? Call us at (800) 373-5210 — we're available Tuesday-Friday, 10am-5pm (central time).
Please Contact Us for more information and to confirm that shipping is available in your area.