Grass Fed Beef Summer Sausage: 10 Pack Sampler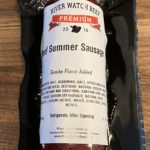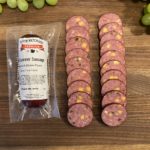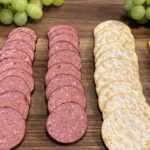 Beef Summer Sausage Sampler (10 Pack)
Mix/Match From 3 Flavors
Hot, Mild, or Cheese/Jalapeno Flavor
Our beef summer sausage is handmade in small batches, using only the finest ingredients. Artisan butchers start with premium cuts of aged grass-fed beef, then add the perfect amount of spice to create a delicious high-protein and low carb snack. Includes ten (10) packages at 8 oz. per package. 100% Satisfaction Guarantee.
Our delicious Summer Sausage is savory, tangy, a bit smoky, and never greasy. Fully cooked, shelf stable and ready-to-eat. No need to refrigerate until after you open it. Perfect for a charcuterie board, party, picnic, camping trip or any-time snack. Our summer sausage pairs well with cheese and crackers, or is a great snack just by itself.
The Summer Sausage Sampler Includes:
Naturally Raised Beef
Our family raises 100% Natural Grass Fed Beef: No GMOs, additives, added hormones or antibiotics. Learn more about Our Story, or you can check out our Blog. From our pasture to your dinner table, car, backpack or tent.
Delivery & Shipping Information
Flat Rate Shipping: $9.90.
Or, Free local Kansas City delivery with orders $99 & up.
Grass Fed Beef Summer Sausage Sampler
(10 Pack)
Delicious Beef Summer Sausage – Artisan summer sausage, made from the finest cuts of dry-aged grass-fed beef. Shelf stable and ready to eat.
Small Batch – Handmade in small batches and minimally processed.
Family Beef Producer – Order direct from a Kansas beef family beef producer.
Grass Finished Beef – Naturally-raised, grass-fed and grass-finished beef. No GMOs, antibiotics or hormones.
Free Range – 100% pasture-raised and free range.
Dry Aged – Dry-aged 14-21 days to perfection.
USDA Inspected – Each cut individually labeled with the name, weight and USDA inspection.
100% Satisfaction Guarantee – We strive to produce the best products possible. If you are not happy, we'll make it right.
"Almost Famous" Beef Jerky – Add Best Selling Beef Jerky: Mild, Spicy/Hot and Sweet Peppered.
Shipping Details
You'll receive a separate email to schedule your delivery/shipping date (weather can affect shipping).
Flat Rate Shipping (Nationwide): $9.90
Free Local Kansas City Delivery (with frozen beef order $99+).
Local delivery available Tuesday-Saturday. National orders ship on Monday-Tuesday for Thursday-Friday delivery.
Questions? Call us at (800) 373-5210 — we're available Monday-Friday, 9am-5pm (central time).