River Watch Beef interviewed on LIVE! from Jasper's Kitchen (KCMO Radio).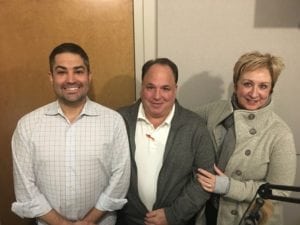 We had a great radio interview recently on LIVE! from Jasper's Kitchen (Kansas City – KCMO radio). Our founder, Chris Kovac (pictured left) talked Kansas City grass fed beef with hosts Kim Dishes and Jasper Mirabile (Jasper's Restaurant & Marco Polo's Italian Market). Chris talked about the better nutritional value of grass fed beef versus traditional store-bought beef and how to prepare and cook grass fed beef properly. Chris also shared more about the vision of River Watch Beef and some exciting news for 2018.
River Watch Beef is a family-owned business that is located in the Kansas City metro area. Our mission is to produce and deliver 100% All Natural Grass Fed Beef direct to your door. Our beef is artisan crafted in 'small batches' and aged 21 days for a delicious beefy flavor and tender texture. Buy premium beef direct from the producer. Nationwide delivery available.
The River Watch Beef interview will air on KCMO radio (710 AM/103.7 FM) on Saturday, February 24 2018 from 11:00am-noon. You can also check us out on their Podcast (from KC food legends) at http://livefromjasperskitchen.com
To celebrate our interview, save 20% off premium grass fed beef with coupon 'radio' – https://riverwatchbeef.com (limited time offer)