River Watch Beef on Startup Hustle Podcast
Recently, Chris Kovac, the founder of River Watch Beef was interviewed on the Startup Hustle podcast, a Top 100 business podcast. The Startup Hustle podcast was created by Matt DeCoursey and Matt Watson, both successful entrepreneurs from the Kansas City area. Congrats to the Startup Hustle team, they were recently recognized as a Top 100 business podcast!
We were excited to talk with Matt and Matt about our Grass Fed Beef Delivery startup and also play the Mixtape game. You can subscribe to Startup Hustle on Apple Podcasts, Android, Google Podcasts and Spotify.
Episode #125 – Where's the Beef?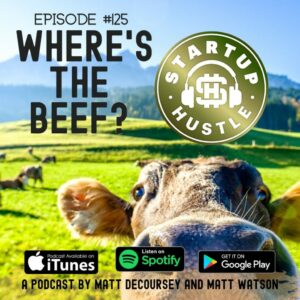 In this episode, Chris talks about some of the challenges of going from an idea to actually starting a company, and some of the hurdles encountered along the way. There is also a discussion about why the beef industry is broken, including foreign beef that is labeled as 'Product of USA,' international companies reducing payments to US farmers for live cattle and 'Big Beef' putting family producers out of business. Chris also shares more about the nutritional value of grass-fed beef versus most store-bought meat (that is corn fed). In fact, grass-fed beef is contains high amounts of Omega-3 fatty acids, is rich in antioxidant vitamins and has less total fat. In short, there is a big difference nutritionally between animals that are truly free range versus corn-fed beef that's confined to a small (and dirty) feedlot.
About Startup Hustle Podcast
The Startup Hustle podcast was started in 2017 to talk about a wide range of issues and opportunities related to being an entrepreneur. The hosts, Matt and Matt, are successful entrepreneurs and understand that startups are hard, and unpredictable. This podcast has become one of our favorites with a wide range of guests (not just tech entrepreneurs) and covering issues that many startups face. They are also great guys that are pretty laid back and like to have fun.
About River Watch Beef
River Watch Beef is a food startup founded in late 2016 and based in Kansas City. Our family has raised premium beef for over a decade, and now our world-class gourmet beef is available for delivery in the Kansas City area, and nationwide. We offer a variety of Grass Fed Beef Packages, 'almost famous' Beef Jerky and you can build you own Custom Beef Box.
Join our Grass Fed Beef Club and have premium beef delivered to your door each month.