Highlighting Families Behind Our Grass Fed Beef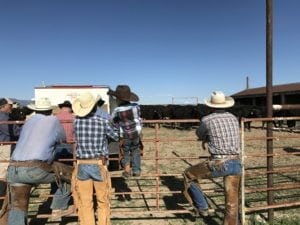 Many family beef producers, that have been producing beef for generations, are losing their cattle ranches and farms. A majority of the the 'Big Beef' industry in the United States is owned by international corporations (many from Brazil) and they don't play fair. In fact, foreign beef can be legally labeled and sold as 'Product of USA.' Joe Fassler wrote about this in 'Foreign beef can legally be labeled "Product of U.S.A." It's killing America's grass-fed industry.' Do you know the Kansas City Steak Company is owned by NBP, which is owned by Brazil's Marfrig? Our family is from the Kansas City area and that breaks our heart.
This month, we'd like to highlight (and thank) the families behind River Watch Beef, a family-centered grass-fed beef producer. Raising cattle the natural way is hard and dirty work. Not much has changed since the days of the cattle drives in the Old West. Family producers rely on family, friends and neighbors to help take care of a grass-fed cattle herd. Even though our cows are 'free range' and free to roam the pastures, we still have to check on their health and happiness often. This is commonly referred to a Roundup, when we gather the cattle to make sure they are healthy and doing well. Our goal is to sustainably raise 100% natural grass-fed beef. It's better for the environment and a (much) healthier alternative than most store-bought meat.
Families Helping Families Raise Beef
This is one of our favorite photos (above) — 3 generations of friends and neighbors working together to raise quality beef. Our family has been raising grass-finished beef in Kansas and Colorado for over 12 years. Before we started River Watch Beef, I helped work the cattle herd from time to time (I was working in marketing at the time). What really struck me was the symphony of families harmoniously working together to take care of the cows and calves. Everyone had a job to do, and it could take 10-15+ people to work cattle (depending on the size of the herd). I also found out it was dangerous work. I got yelled at a lot (they were not trying to be mean); if someone screws up, the cows and calves can be injured and people can be hurt or killed.  It's serious business.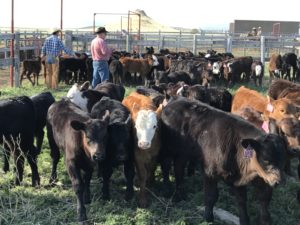 When families get together to do Roundup and work cattle, it's a community affair. Roundup usually begins at sunrise — the day can start at 4am, or earlier! It takes time to prepare the horses and get everything ready to bring the cows in. It is also customary to provide everyone breakfast and lunch. Once the work is over, the cowboys and their families get together (usually in the barn) to share a meal and catch up on current events and share 'old-time' cowboy stories. I guess this was the original social network! Lunch is nothing fancy, and includes sandwiches/hamburgers, chips and some dessert. Roundup is normally an all-day event and we usually sleep well when the day is over.
By supporting family owned beef producers, you are helping family businesses stay in business. Family producers also tend to take much better care of the beef animals, from raising calves to processing and butchering the meat. We appreciate your support for beef raised in the USA by family farms and ranches. Beef that is raised better, simply tastes better.
What Makes 100% Natural Grass Fed Beef Better?
There's a big difference between 100% Natural Grass Fed Beef and most store-bought beef (corn fed) available. Corn fed beef is typically confined in a dirty and crowded feed yard with thousands of animals. The cattle can be fed a mix of unhealthy corn, food waste (like Skittles or Twinkies), and given hormones and other additives. There is a better way to produce quality beef!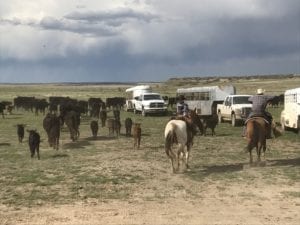 Grass Fed Beef is a more sustainable and healthy alternative for several reasons. Free range cattle are free to eat the most nutritious grasses and are less stressed than confined beef. The cow's diet of native and natural grasses results in beef that is high in antioxidant vitamins (A, B, D and E), rich in heart-healthy Omega-3s and full of minerals (zinc, iron, selenium). Grass fed beef is a leaner beef, with up to 30% less total fat, and less 'bad' cholesterol.
Our grass-fed and grass finished beef is 100% natural with no added hormones, no additives and no GMOs. Our beef is minimally processed, dry aged for 21 days and contains no preservatives and nothing artificial. Our beef is butchered at a USDA inspected and certified facility by a 3rd generation family beef processor in central Kansas.
Where Can You Buy Our Beef?
You can order family raised grass-fed beef, direct from the producer at https://riverwatchbeef.com. We deliver our premium beef direct to your door. You can order online via our website or call us toll-free at (800) 373-5210. Save 10% off your order with Coupon code 'first' at checkout. We offer free delivery to most of the Kansas City area (Kansas and Missouri) and ship nationwide. You can also find select cuts and our famous Beef Jerky at Colonial Gardens, in Blue Springs Missouri (Kansas City metro area).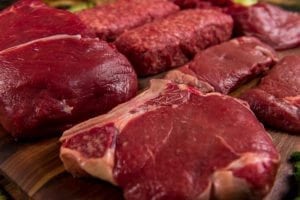 We have over 20 different cuts of grass-fed beef available for sale, including premium dry-aged steaks, flavorful brisket and roasts, delicious ground beef, hearty stew meat, yummy short ribs and more. Our cowboy-inspired (almost) famous small batch beef jerky is minimally processed and handmade with simple (all natural) ingredients.
You can also choose from a variety of Grass Fed Beef Packages, Small Batch Jerky, or create your own Custom Beef Box. Join our Grass Fed Beef Club and receive premium beef delivered each month (monthly, bimonthly and quarterly subscriptions available).
We appreciate your support — eat well,
Chris Kovac (founder, River Watch Beef)