How We Raise Our Beef at River Watch Beef
Customers often ask how we raise our beef and how it's finished. We love getting your questions — our goal is to be as transparent as possible on how we raise and process our cattle. From day one, our passion is to raise beef the 'right' way. In this month's blog post, we share more details about how our beef is raised and where most store-bought meat comes from.
*The folks in the photo above include our family, neighbors and friends. We all help each other.*
Where Does Most Beef Come From?
Most beef available in US grocery stores and restaurants comes from large, international companies. In fact, the four largest companies own about 80% of the US market. Unfortunately, two of these companies are Brazilian owned (Marfrig & JBS). It's unfortunate because these companies control the beef markets, from the price paid for live animals to setting retail prices at the store.
This is harming US based small family farms and producers, and causing many farms and ranches to fail. Folks are losing lands that have have been in the family for generations. For example, read "Big Four Meatpackers Accused of Conspiring to Inflate Beef Prices" from Beef Magazine. Or, 'Big 4 Hit with Antitrust Class Action Lawsuit" from ClassAction.org in June 2020.
If you can find sustainably-raised meats from small family farms and ranches, we encourage you to support them. All beef is not the same! At River Watch Beef, you can order top quality grass-finished beef, delivered direct from a family beef producer (that's us!). You can also find high quality meats at a farmers market, small independent stores and online. Reputable producers will tell you exactly how they raise their animals, so it's important to do your research.
What is Corn-Fed (aka Grain Fed) Beef?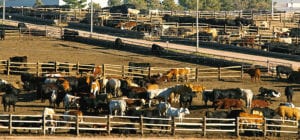 The vast majority of beef supplied in the US is corn-fed and/or grain-fed (soy, sorghum, barley, etc.). These animals usually graze on grass for several months and then trucked to the feedlot to 'fatten up' the animals. Feedlot beef is bad for the environment, not sustainably-raised and unhealthy for us to eat.
If the animals are eating significant fillers and junk food, how can the meat be healthy for us to eat? The short answer is, it's not. It's important to know where your food comes from (and what's in it).
Grain-fed beef is commonly imported from other countries, such as: Brazil, Argentina, Mexico, Canada, New Zealand and Australia. They ship the carcass to the US, and as long as it's butchered here it can be labeled "Product of USA." The beef industry labeling laws need to change — the steak you are eating may not actually be raised in the US.
Skittles, Twinkies & Peanut Shells (oh my!)
Grain-fed cattle are often fed other food waste — here's some examples we found: doughnuts, Twinkies, Skittles, Kool-Aid Drink, cereal byproduct, citrus pulp, spent grains, to name a few. Evidently, these animals can also be fed Blood Meal, Hydrolyzed Feather Meat, Fish Meat and even Bone Meal (Yuck!). The large beef companies actually do this in secret. They put profit over people and it's outrageous. We (as customers) should demand better! A few years ago, we stumbled across a CNN article about 40,000 lb. of skittles on the highway after a truck accident. It turns out, the Skittles were headed to an animal feed yard.
Four Companies Control Almost 80% of Market (two Brazilian owned)
The "Big 4" consist of four large international corporations, including: JBS, Cargill, National Beef and Tyson. National Beef is owned by Marfrig Global Food, a company based in Brazil. JBS is the world's largest processor of beef and pork — JBS is also a wholly owned Brazilian company. In other words, more than half of the US beef supply is controlled by foreign companies. Even the Kansas City Steak Company is owned by National Beef, which is owned by the Brazilians.
They put profit over people — their profit doesn't even stay in the United States. It goes to Brazil!
We Believe There's a Better Way to Raise Beef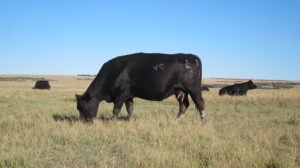 Raising and taking care of cattle is demanding, dirty work. But, we love it…you kind of have to. Over the past decade, we've learned a lot about the cattle industry, both good and bad. We believe in raising beef the 'old fashioned way,' on natural and native grasses. We're different versus most beef you will find at the grocery store or chain restaurant. Learn more about how we raise our Angus and Hereford cattle below.
How Do We Raise Our Grass Fed Beef?
We're glad you asked! River Watch Beef is truly farm to table. As a small family producer, we produce cattle in 'small batches' and maintain very high quality standards. Our pasture land is located in the historic Flint Hills (central Kansas). The Flint Hills has some of the best grassland pastures in the world; it's a perfect mix of moisture, soil and temperature.
We start with the highest quality animals, buying young calves from our neighbors that are doing the same grass-fed program. We used to be a 'cow-calf' operation, raising animals from birth. However, we had some family health issues and had to change course. We take our animals to the processors when they are about 18-22 months old; that ensures better quality meat with a tender texture and big 'beefy' flavor.
From Kansas to Colorado and Back to Kansas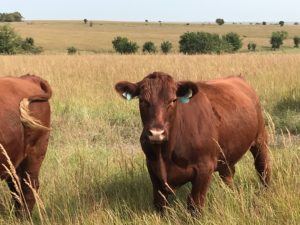 Our family is originally from the Kansas City (Kansas) area. In the late 2000s, we started raising cattle in southern Colorado. Each year, we raised about 150-400 head of Angus and Hereford cattle. At the end of the season, we took the animals to the auction barn to be sold — that's how most producers sell livestock. Financially, you get whatever the big companies give you.
The weather was harsh and many parts of Colorado experienced severe drought over the last decade. When the drought was especially bad, we made the hard decision not to produce cattle at all. We keep pushing and trying to make it work. Luckily, in most years the pasture had enough good grass for the animals to eat.
Unfortunately, we had some family health issues; the altitude was making it worse. It was a difficult decision, but the Colorado ranch was put up for sale and sold in 2019. We asked neighbors to take care of our remaining animals, until we could process them at the USDA facility. In early 2020, there was a small farm available for sale in central Kansas (about an hour west of Emporia, Kansas). We decided to continue to raise Hereford and Angus beef in the historic Flint Hills in central Kansas.
What is Grass Fed and Grass Finished Beef?
Ask 10 'experts' and you'll probably get 6 different answers. We consider Grass Fed (and Grass-finished) to be Naturally Raised Beef with a primary diet of natural and native grasses. Our Free Range and Pasture Fed cows are free to roam the pasture and forage for the most nutritious grasses. Additionally, grass-finished beef has no added hormones, no GMOs, no additives and no unnecessary antibiotics.
Grass Finished Beef is grass fed and not 'fattened up' with grain before slaughter. It's common for grass-fed producers to feed the cattle a few pounds of 'cake' occasionally to supplement their diet. This is necessary as the weather gets cold and the proteins in the grasses decrease. The 'cake' is feed that is Certified Organic, non-GMO and contains cottonseed, sunflower and barley. It contains no corn, soy, sorghum, wheat or other additives.
Organically-Raised Beef
Our cattle are raised organic, although we're not labeled a 'USDA Organic Product,' yet. The Covid-19 pandemic kinda threw a wrench in our plans. No insecticides, herbicides or fungicides are used in the pastures that the animals graze on. Because the pasture consists of native grasses, there are no GMOs as well. We hope to become Certified Organic by 2022.
USDA Inspected at a 3rd Generation Processor
We transport the cattle ourselves to a third-generation family owned processor; they are fully USDA inspected and certified. They process, butcher and package our beef. Each cut is individually labeled with the name, weight and USDA inspection. They also make our 'almost famous' beef jerky out of premium cuts of dry aged beef.
Sustainably & Responsibly Raised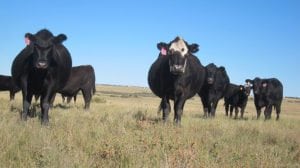 River Watch Beef is fully committed to sustainability and the ethical treatment of animals. Ruminant animals (cattle, sheep, deer, bison) have a positive environmental impact because they convert grasses to high quality food. Most pastures are not suitable to farm (for a number of reasons) and the cattle maintain the land and 'help keep it clean.' Happy Cows = Better Beef. Our free range cattle are less stressed because they are free to go where they please.
Cattle sustainably raised in the pasture is better for the environment vs. feedlot animals — this has been recently reported by NPR, Science Daily and others. Livestock maintains and improves soil health; manure returns key nutrients to the soil. Much of the pasture used for grazing is useless to grow crops, especially with no water or irrigation rights.
Grass Fed Beef is a Healthier Option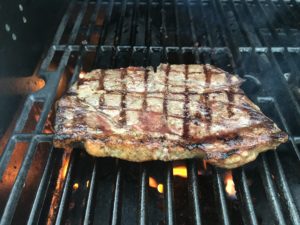 Grass fed and grass finished beef is a healthier option, compared to most meat available at the local grocery store. Here are some benefits to eating grass fed beef:
Less Total Fat – Grass-fed and grass-finished beef has approximately 25-40% less total fat vs. corn-fed beef.
Rich in Antioxidant Vitamins – Including Vitamins A, B6, B12, D and E. Antioxidants are important because they fight free radicals in your body.
Significant Omega-3 Fatty Acids – Only grass fed beef has a significant amount of Omega-3 Acids (mostly found in fish) and contains Alpha-Linolenic Acid (ALA), which is an important Omega-3 strand. Omega-3s can help reduce heart disease, prevent plaque build up in arteries and reduce cholesterol.
Essential Minerals – Grass fed beef has more beneficial minerals including Iron, Magnesium, Phosphorous, Potassium, Selenium, Sodium and Zinc
What is Dry Aged Beef?
Dry aging beef is a process where the cuts are aged in a humidity controlled environment. River Watch Beef is dry-aged 21 days to perfection, resulting in a tender texture, deep color and robust 'beefy' flavor. Dry aged beef is often found in high end restaurants and boutique butchers. Beef that is dry-aged costs more to produce and is considered a premium product.
How Do You Order From River Watch Beef?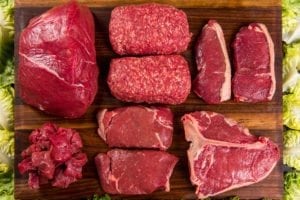 You can order our Grass Fed & Grass Finished Beef and we'll deliver it right to your door. We offer over 20 different cuts of beef, including a variety of premium steaks, gourmet roasts and briskets, mouth-watering ground beef and more. Best of all, we conveniently deliver premium beef direct to your doorstep.
Grass Fed Beef Packages – We have a variety of curated grass fed beef packages that include our most popular cuts.
Build Your Own Custom Beef Box – Build a custom beef box, including steaks, roasts, brisket, ground beef, stew meat, short ribs, oxtail, cubed steak and more.
Almost Famous Beef Jerky – Our beef jerky is minimally processed and made from premium cuts of dry aged beef, using an old family recipe. No additives or preservatives.
Join Our Grass Fed Beef Club – The only monthly beef subscription where you can customize your order each month. You are guaranteed to receive the beef cuts you request. You can also change your cut preferences each month. We offer monthly, bi-monthly and quarterly membership plans.
5-Star Customer Reviews – See our 5-Star Customer Reviews on Google, Facebook and Yelp.
Superior Service is Our Priority
We strive to have the best possible customer service with 100% Satisfaction Guarantee — if something is wrong, we'll make it right.