Folks are getting smarter about what they eat — and that's a good thing. Customers often ask "What's the difference between Grain Fed Beef and Grass Fed Beef?" Although we've touched on the topic in previous blog posts (What is Grass Finished Beef?), in this blog post we'll do a side by side comparison of grass-fed versus corn-fed beef. There is a difference!
The Definition of Grain Fed Beef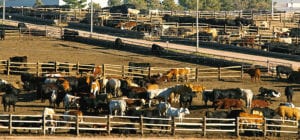 Most commercially-raised beef that you buy in the grocery store, or order at a restaurant, is grain-fed (specifically, corn fed). The large beef producers "fatten up" their cattle by finishing the animals in a confined feedlot (aka Concentrated Animal Feed Operation or CAFO). These feedlot animals are fed a primary diet of corn, distilled grains and even food waste (like Skittles and Twinkies). Food waste is less expensive feed for the animals, and some operations call it 'cheap carbs.' If a cow eats Skittles, how healthy can it be?
Cattle confined to feedyards are often given Hormones, Antibiotics and other Additives to maximize the weight of the animal. Confined animals also tend to be more stressed than free range cattle. There are thousands of feedlots around the country. If you have ever driven by one, you probably noticed the overpowering smell (it's pretty gross). In 2019, a feedlot near Kansas City had plans to expand. The Kansas City area residents fought the expansion and feetlot actually closed their operation. The concern was the smell and the potential risk for contaminating the local water sources. You can read more via KCUR (public radio) "Instead Of Expanding, A Cattle Feedlot Near Powell Gardens Shut Its Doors." Feedlot beef is bad for the environment, not sustainably-raised and unhealthy for us to eat.
What is Grass Fed Beef?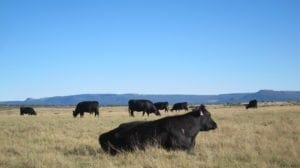 Unfortunately, there's no standard definition for grass fed products. We consider Grass Fed Beef to be Naturally Raised Beef with a diet of natural and native grasses. These Free Range cows are free to roam the pasture and forage the most nutritious grasses. Additionally, grass-fed beef should have no added hormones, no GMOs, no additives and no antibiotics.
Products labeled 'Grass Fed Beef' can be misleading, especially if it originates from another country. Beware foreign beef labeled from New Zealand, Australia, Argentina and Mexico, as they do have have the same USDA inspection and laws meant to protect us from inferior beef. In fact, an article from 2015 indicates "DNA Testing Shows Some Ground Meat Sold in the US Contains Horse Meat." Yikes!
It's important to know where your food comes from. We recommend buying grass-fed beef directly from a family farmer or rancher. Most reputable family operations will tell you exactly how they raise and process their animals. You can order premium grass fed beef from River Watch Beef, a trusted family beef producer. They raise Free Range beef in central Kansas and eastern Colorado.
Comparing Grain-Fed Beef to Grass-Fed Beef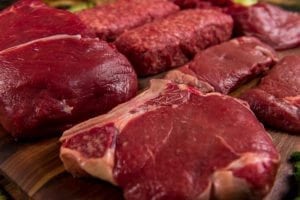 There is a significant difference between grain-fed and grass fed meat. Confined, commercially-raised (grain fed) beef is inferior to beef raised naturally in both taste and nutritional value. The USDA has a program for Small and Very Small Beef Producers, learn more about it here.
Grain & Corn Fed Beef  (Feedlot Raised)
A vast majority of grain and corn-fed meat comes from Large International Companies that put profit over human health. In fact, many of the well-known beef brands are now Brazilian-owned. These companies are harming the beef industry by controlling prices and putting family ranchers and farmers out of business. In 2019, lawsuits were filed alleging price fix fixing and collusion in the cattle market. Read more in this article from Successful Farmer: "LAWSUITS ALLEGE PRICE-FIXING BY BEEF COMPANIES." Another Yikes!
Corn fed beef is well marbled (with white fat) and gets most of its flavor from the fat content. In fact, beef that's labeled Prime or Choice is primarily graded by it's fat content. I believe corn-fed beef tastes a little bland and is too fatty (just one person's opinion). Plus, you don't know how the animals are raised and if they were given hormones, antibiotics or other additives.
Grass Fed Beef (Naturally Raised)
Naturally-raised beef is a healthier alternative vs. most meat available at the store. It has approximately 30% less total fat and lower cholesterol vs. commercial beef. Grass fed meat also has a significant amount of antioxidant vitamins (A, B, D & more), is rich in heart-healthy Omega-3s and CLA fatty acids (Conjugated Linoleic Acid) and also full of essential minerals.
Free Range beef has a reputation for being tough, and chewy with a bit of a gamey taste. Many people tried it once, had a bad experience and never tried it again. That's unfortunate because  someone processed and sold an older animal that was past its prime; like an old mother cow that's 13 years old. It happens more than you would think. We encourage you to try quality aged grass-fed beef from a reputable source (check their online ratings) and see if it changes your mind.
Grass Fed Beef is a leaner meat and has a more robust 'beefy' flavor profile versus most store bought beef. The meat gets its flavor from the natural grasses in the cow's diet, not by unhealthy fat. Dry aging grass fed beef makes a big difference, in terms of both taste and texture. We recommend buying beef that's aged 14-21 days (or more) for the best results. Dry-aged beef is the same quality (or better) that they serve at the finest restaurants around the country.
Preparing & Cooking Grass Fed Meat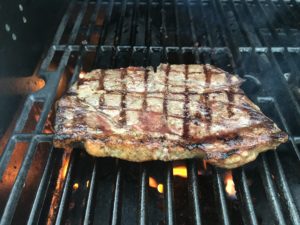 Grass fed meat cooks differently than typical store bought meat. The theme of cooking leaner meat should be 'slow and low.' Check out our recent blog post "Tips for Grilling a Perfect Grass Fed Steak"for tips on how to prepare and cook a perfect steak that your family will love.
Preparation & Cooking Tips for Steaks and Hamburger
✔ Reduce cooking temperature (400° F – 450° F is ideal)
✔ Shorten cooking time by 25% (or so)
✔ Preheat cooking surface so it's nice and hot
✔ Cook to Medium Rare — Do Not Overcook! (grass fed meat is delicate, like wild caught salmon)
✔ Let steaks 'rest' at least 5 minutes before eating
✔ Check out links to our Recipes Page
About River Watch Beef
River Watch Beef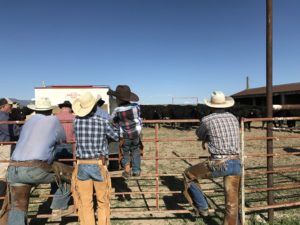 is a family beef producer located in the Kansas City area. With help from our friends and neighbors, we raise free range and pasture fed beef in central Kansas (Flint Hills) and eastern Colorado. Our mission is to raise the best quality beef possible and deliver it directly to your door. You can learn more about our story here.
How Can I Buy Quality Grass Fed Beef?
We offer the highest quality grass fed beef that is minimally processed and dry aged 14- 21 days to perfection. We offer a number of Grass Fed Beef Packages, or you can Build Your Own Custom Beef Box.
Join our Grass Fed Beef Club and have premium beef delivered to your house each month (bi-monthly and quarterly subscriptions all available). Best of all, you can customize your order each month.
Check out our 'almost famous' small batch beef jerky! It's a customer favorite and sells out quickly.