We're a small family business (father & son) with no employees. However, it takes a community of 30+ to raise, process, butcher and deliver our grass-fed beef to your door. Every River Watch Beef order supports dozens of Kansas families (thank you!).
Raising Grass Fed Beef in the Pasture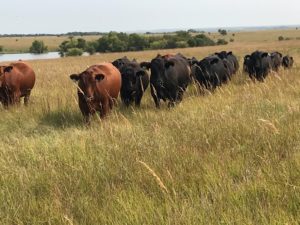 Each spring, we put new steers (male calves) on our pasture in central Kansas (Flint Hills region). It takes 4-6 people to care for a small cattle herd, about 50-100 animals. Occasionally, we 'round up' the herd for an accurate head count. Sometimes, a few animals find their way into our neighbor's pasture through a broken fence!
When the animals are ready for the processor, we transport 10-12 head at a time. The cattle are loaded into the truck from the pasture and driven directly to the processor. You need a big truck (and trailer) to haul that much weight! 4-6 folks help in the pasture.
Processing at Family-owned USDA Facility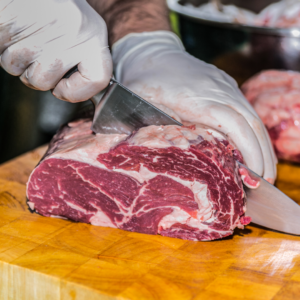 We work with a third-generation, family owned USDA processing facility. A team at the processor prepares live animals for processing and then dry-aging. No part of the animal goes to waste! Once the animal is processed, the sides of meat are dry-aged for about 21 days. There's definitely an artisan approach to dry-aging meat.
After the meat is properly aged, it's butchered into individual cuts of steak, roasts, ground beef, etc. It takes a significant amount of time to carefully butcher every cut to our specifications. Each cut is weighed, packaged and labeled with the USDA inspection number.
Once our grass-fed beef is packaged, it's boxed and flash frozen. Finally, everything is loaded on to pallets to get ready for transport. 12-15 people help with beef processing and butchering.
Transportation to Cold Storage
The finished beef is transported to a cold storage facility until it's ready for delivery. The team that coordinates the delivery, schedule appointments, load/unload boxes and take inventory includes about 7-8 people. A commercial driver transports the load to the cold storage facility.
Delivering to Quality Beef Your Door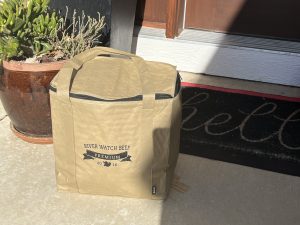 It really Takes a Village to deliver all-natural grass fed beef direct to your door. There are also people that manufacture boxes and labels, manage this website (Jacob), photographers (Simon) and more. We'll save that for another blog post!
We truly appreciate each and every person who helps care for animals, process the meat and deliver the finished product to our customers. We are thankful for our wonderful customers and friends who continue to support our family business.
Our owner Chris and long-time family friend Christine currently do all deliveries. Those are the final 2 hands that pack and deliver all our orders.
About River Watch Beef
We're River Watch Beef, a Kansas family beef producer. Our high-quality beef is 100% natural & grass finished in the pasture. No GMOs, added hormones, antibiotics or additives.
Each cut is dry-aged approximately 21 days for a tender texture and big 'beefy' flavor. We offer local delivery (Kansas City area) and shipping is also available. Order affordable and delicious grass fed beef direct from a Kansas family producer.
We have a variety of premium steaks, delicious roasts, mouth-watering brisket, amazing ground beef and more. Check out our Grass Fed Beef Packages, or you can shop by Individual Beef Cuts. Join Our Grass Fed Beef Club and customize your order each month.
Questions? Contact Us via our website. See our Frequently Asked Questions (FAQs) page.