Happy Halloween! Don't eat 'scary' factory beef
We want to wish everyone a Happy and Safe Halloween! Do you know that store-bought 'factory meat' can literally be scary? What is Scary Beef? Scary beef is 'factory meat' that's raised in unsustainable and unhealthy Concentrated Animal Feed Operations (CAFO), aka feedyards. These animals are fed food waste, corn and other additives to 'fatten up' the animal. Unfortunately, this makes up a vast majority of 'beef' available at the grocery store or local restaurant. That's Bad (for us and the environment).
What is Factory Beef?
Factory beef (meat) is how most animals are raised and processed. They live very stressed lives in a confined area; there can be dozens of animals confined to an area the size of a residential yard. The animals are fed a variety of things to eat, some natural and some artificial. The 'Big Beef' companies are not very transparent with what goes into the animals. They are focused on profit. Animals could be fed food waste (rejected Skittles, for example), GMO modified plants, hormones, antibiotics and all kinds of 'scary' things. We're trying to get the word out — we should demand better of food providers. We should also Demand Transparency. We should all know where our food comes from.

Why is Grass Fed Beef better?
Grass Fed Beef is Raised Differently. Grass fed animals are free to roam the pasture and eat natural and nutritious grasses. The result is 30% less total fat, up to 5X antioxidant vitamins (A, B, D, E) and heart-healthy Omega-3s. Happy animals = better beef. That's Good (for us and the environment). Check out some Grass Fed Beef Facts Below.
Grass Fed Beef is rich in antioxidant vitamins, including: Vitamins A, B6, B12, D and E. Antioxidant vitamins are beneficial because they offer skin health, immune support and can even impact your memory and mood.
Grass fed beef is lower in calories compared to corn-fed beef; this is due to a leaner meat with less unhealthy fat.
Grass fed beef contains other, lesser-known antioxidants including Glutathione (GT), Superoxide Dismutase (SOD), and Catalase.
Grass fed beef has more beneficial minerals including Iron, Magnesium, Phosphorous, Potassium, Selenium, Sodium and Zinc
Only grass fed beef has a significant amount of Omega-3 Acids (mostly found in fish) and contains Alpha-Linolenic Acid (ALA), which is an important Omega-3 strand. Omega-3s can help reduce heart disease, prevent plaque build up in arteries and reduce cholesterol.
Grass fed beef has a deeper, more intense red color compared to traditional beef. This is due to higher concentrations of Vitamin E. Vitamin E is beneficial and helps to balance cholesterol levels, reduce free radicals, improve vision and may even lower risks of certain cancers.
Grass fed beef is a great source of protein. Proteins are essential for your body and help build and repair muscle, regulate blood sugar, build strong bones and maintain hormones and soft tissues.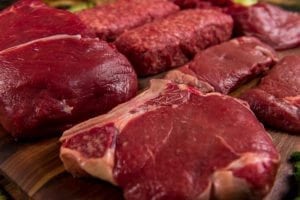 Happy Animals = Better Beef
Save 10% Off 1st Order (use coupon 'first' at checkout)
At River Watch Beef, we produce free range, grass-fed beef and deliver it direct to your door. We're a small family beef producer and we raise Angus and Hereford beef animals in Kansas and Colorado. Our office is located Shawnee, Kansas (Kansas City metro area). We have a variety of Grass Fed Beef Packages available, or you can build your own Custom Grass Fed Beef Box. Join our Grass Fed Beef Club (monthly subscription) and receive premium 100% Natural Grass Fed Beef beef delivered to your door every month.
Save 10% Off your first order — use coupon 'first' at checkout.
Check out our 100% Natural Grass Fed Beef Jerky. It's available in three flavors: Mild, Teriyaki and Sweet Peppered.